The Paddy Buckley Round is a long distance fell running challenge in Snowdonia. The route is a circuit of just over 100 km long taking in some 47 summits. On Saturday June 10th Peter Taylor made an attempt to complete the round with friend Jim O'Hara. Here is his account of the experience.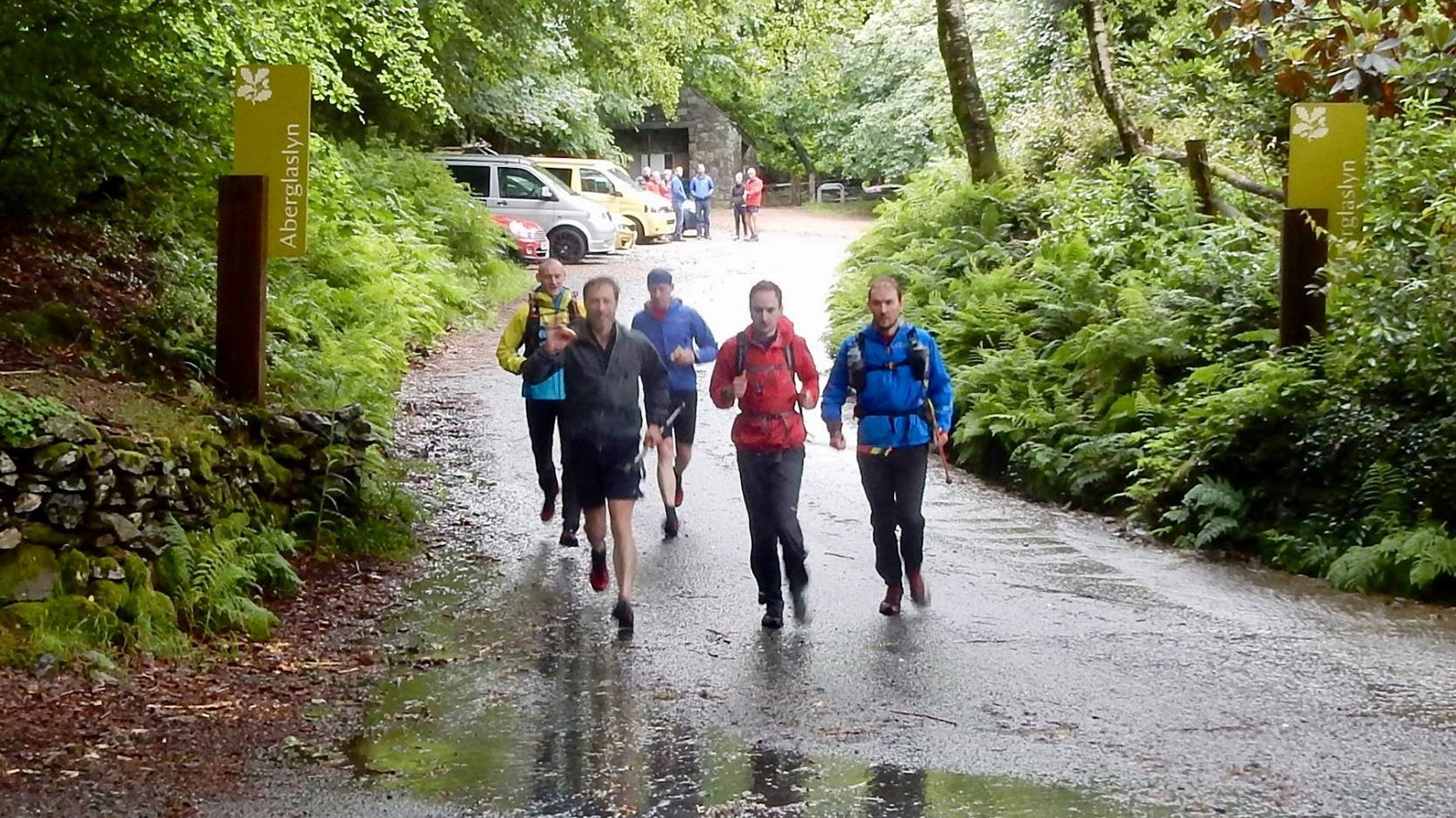 One Windy Day
While still fresh, I thought I'd breeze through my recollections of this weekend's experience.
'Masochistic' and 'perverse joy' are social media phrases used following my Paddy Buckley Round attempt. It seems that my friends, like me, took pleasure from battling the storm. Several people have suggested that we should have delayed the start, but the wind was unrelenting at the end as it had been at the start, and the rain wasn't such an issue. Should we have started at all? Probably not, but we had the support of our friends that weekend and no backup plan.
For me, the adventure ended in Llamberis after 17 hours. How Jim O'Hara continued for another 12 hours 40 minutes is beyond belief. Hats off to you mate. Calling it a day was the right decision for me. I was slowing and becoming a liability, potentially putting myself and others at risk.
Interestingly, my legs are not trashed today, one full day later. At least, my quads are not as sore as after my Bob Graham Round, suggesting that I had the remaining 3,000m climbing in me. But my knees, ankles and wrists are sore, and I was drained. This is unsurprising given the unrelenting gale.
Jim, four loyal supporters and I ran off Moel Siabod leaning heavily into the wind to remain upright. I opted for poles and my winter waterproof, which was fully zipped and the hood tightened to snorkel mode. The rain belted off our jackets for the first six hours. With everyone working hard to keep themselves functioning and communications tricky, I took on navigation duties. Apart from having to nip back 100 m to nab a missed summit, we were doing OK. After missing the summit, I gave my waterproof map to Max Wainwright and asked him to take a lead.
Nick Holmes battled through waist-deep bog traps and high winds to Moel Druman, about 20 km in, where he had intended to meet, and depart with, Steve and Sarah Hammond. Steve and Sarah found the featureless summit. Not being a day for waiting about and with virtually no chance of finding us in the clag, they leant the other way into the wind and retreated to Croesor. Meanwhile, Nick and Chris Jackson descended to Blaenau Ffestiniog where they shivered and looked sorry enough for themselves to blag a lift. Mark Smith and Dave Sykes came up from Blaenau Ffestiniog to the quarries to cheer and as a warm up for later supporting duties, but didn't see us or the others.
Simon Ellis was now overloaded with kit. He and Max continued, but Jim and I dropped them climbing Moel Ddu. With hindsight, we should have waited and made a plan, but we didn't. The next section is a loop and has corners to cut and I thought we'd meet again at the quarries. The Moelwyns part went well with one hairy moment for me when a slip didn't stop. I seemed no worse for my 10m mud slide, although I now see that a rock had its say and I have a striking tramline on one bum cheek.
Without a map or compass, we came off Moelwyn Mawr a few degrees off line and ended up returning to the quarries from an unorthodox direction. We hoped to find Simon and Max sheltering in the ruins, but all we could see was mist and all we could hear was the wind.
So, no map, no compass, no visibility and no path, and the most difficult part to navigate. No food too, but water, water everywhere! (Had we been in possession of a board, it'd have shrunk.) Jim hadn't reccied this part, but I knew it well, so we didn't panic. We bobbed about in the mist and gale, over and round heathery hummocks. "Find a small lake then another with a dam, and then steeply up to Cnicht," I said. "Does this look right," repeated Jim. It all looked the same. Fortunately, we found a path. From its gradient and the general absence of paths, I knew it was the northeast ridge of Cnicht. Simon later told me that the reservoir was cascading over the dam, rendering it and the outflow un-crossable. When Simon and Max found the dam, they were forced to retreat down valley to Croesor, so not finding it may have been lucky.
The run to Nantmor was uneventful. Despite only having the food in our pockets to chew on in three hours, we were happily trading song lyrics with each other and the gale.
There were lots of folk at Nantmor, including Rudy Miller, a founder member of Tattenhall Runners who now lives locally. Sharon Basford and Sue Ellis were brilliant at the changeover. I stripped off my wet clothes behind the camper van, naked except for my socks and shoes. It felt great to pull on a dry merino wool thermal.
Off we went. Jim, Rob Chambers, Simon Duckett, Chris Collins and I. Off up Bryn Banog, Moel Hebog and their comrades. The rain stopped but the wind was unrelenting. At least now we were not battling into it.
I was feeling a little sick. In the confusion of the gales, I'd drunk more electrolytes, rather than straight water, than I wanted to. Whatever the reason, I was finding eating difficult, but munched slowly onward.
This is the leg I'd reccied the most, and Simon and Rob had both been over it, in a heat wave, a few weeks before. We had one navigational blip, but were otherwise good.
Again Sharon and Sue were set up to receive us. There were others too – apologies for not mentioning everyone by name. Warm food and off again, this time into gathering gloom. The only full moon anyone saw was my arse at the first changeover.
I told Mark I wasn't feeling good. I didn't need to say anything more. He paced me up Craig Wen, Yr Aran and beyond, constantly attending to my needs. Rob and Simon continued. Supporting two legs is no mean feat and a testament to their strength.
The wind on Yr Aran was as ferocious as it had been on the first leg. Only I know the route off Yr Aran and up Snowdon. It was meant to be on good, moonlit paths, but losing the path was as easy as slipping on wet slate. We each had a halo of mist reflected back at us and could see little else.
Rain started again on Garnedd Ugain. I adjusted my hood and pulled the jack-plug out of my head torch. Normally, this would not be a problem, but I was cold, tired and plunged into blackness and didn't know why the light had suddenly failed. I watched four halos fading fast. I yelled into the wind until they came back. We continued with a spare torch in service. Careful navigation from Mark got us onto the path. The GPS trace says it all!
By this point I was slowing. 75 kms of wind was taking its toll. Jim was faring better. He wouldn't leave me. Mark told me not to make any decisions until we reached Llanberis, but I had decided. We had two supporters between us for the next leg, but I wouldn't have gone on even if we had enough support to split. At this point, sub-24-hours still looked possible for Jim and I didn't want me slowing him into Llanberis. Jim knew the route off Moel Elio, which is the same as the race he'd run a month before, so I insisted that he go on. But racing isn't reccying! After faffing about at the summit and following the wrong fence down, Jim, Rob and Simon made it into Llanberis and were off just before Mark and I arrived.
Sharon and the ever-present and ever-cheerful Charlie Eldred greeted us. It was over for me. 80 km with 5,300 m climbing, and no lull in the storm. I didn't feel disappointed, but tired, happy and relieved. It had been a great experience, an adventure, a discovery.
Jim was now right on the 24-hour schedule, with no slack, but the wind caught up with him too. His wind-battered body slowed. Remarkably, he had the willpower to drag himself over another 35 km with 3,000 m climbing. He was out for nearly 30 hours!
We've learned a lot for Simon Duckett's 2018 round.