We meet on Tuesdays & Thursdays at 7.00pm to depart at 7.15pm from Tattenhall Recreation Club, Field Lane, Tattenhall, Chester CH3 9QF.
In summer we train as much as possible off road in the Peckforton Hills and surroundings.  And here is what a typical training group looks like!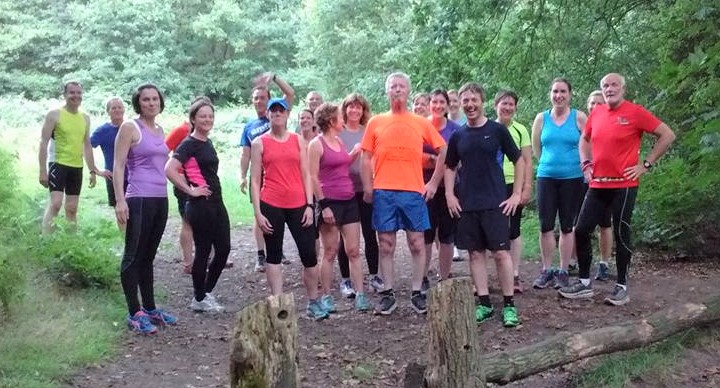 During the winter evenings you can find us running on the roads around the lanes of Tattenhall and in the summer we explore the delights of the local hills in Peckforton and Bickerton.
Runners split into two or three groups led by either one of the club coaches or more experienced members.  The B and C groups generally run between 4 and 6 miles, with the A group running a little further at a faster pace.
Training sessions are a mix of steady runs, speed work, hill sessions or time trials. These techniques will help to improve your running in a friendly environment, and you'll be amazed by how much progress you will make!
No runner will ever get left behind as both groups operate a shepherding scheme which ensures that the groups remain intact throughout the session so that slower or new members do not become detached from the group.
If you would like to join us on one of our sessions please remember to bring a headtorch and high visibility clothing for health and safety when running on the road.
If you would like further information about the club or you are a bit nervous about coming down to training for the first time contact either;
James Jenkin, Club Chairman at info@tattenhallrunners.com or
Steve Hammond, Club Secretary at steve@tattenhallrunners.com
They will be happy to answer your queries and will inform the coaches that you will be joining in one of our sessions.
We have a Winter Training Framework, which can be accessed using the following link :  Winter Training 2019-20 – Framework, and the leader rota is available at  Winter Training 2019-20 – Rota.