What a great weekend at the National Fell Relays, held this year at Broughton Heights in the Scottish Borders. A team of six – Craig Connor, Rob Arden, Rob Chambers, Simon Duckett, Tom Leather and Richard Watson, ably supported by Ali Grundy – competed.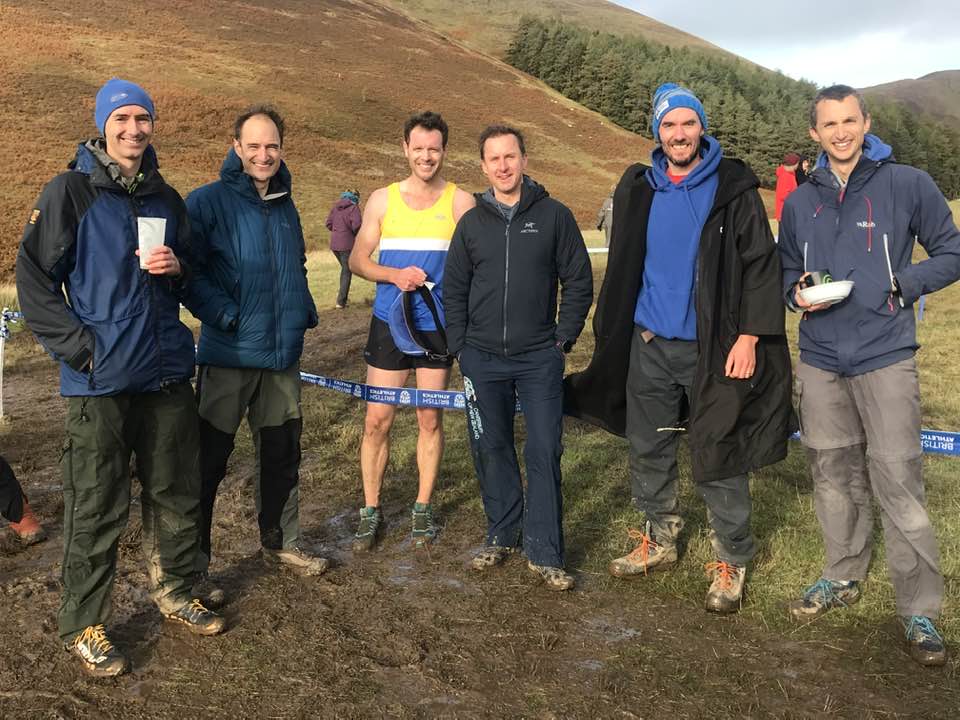 This event is always a highlight of the fell racing calendar, giving club runners the opportunity to race shoulder to shoulder (we wish!!) with some of the best fell runners in the Country. The venue was amazing, with incredible scenery and even a bagpiper to make the setting even more epic!
Craig, Rob C and I arrived late on Friday and camped overnight. We awoke the following morning to heavy rain and wind, making us all wonder what the day had in store for us. Luckily, by 10 am, and having met up with Rob A, the weather was clearing and the sun was doing its best to make an appearance. On arrival in the race carpark we joined the 1074 other runners walking up to the start area, nervously chatting and occasionally meeting friends and acquaintances from other clubs.  
On arrival at the race field, I went off to register while the team set about setting up the tent and preparing for the day ahead. Tom arrived shortly after all the work putting up the tent and setting base camp up was done – behaviour only befitting the Chairman I guess!
Craig got himself ready for leg 1 while the rest of us chatted with other runners and reviewed the course.  
Before long Craig was off. Leg 1 was a fast 8km with some tough climbs and terrain. Craig ran a great race, setting the Tattenhall standard for the day and coming in 68th in 45mins 57secs.  
Robs A and C were on leg 2, a longer route of about 11km with 900m of climbing. Both described it as tough with lots of bog. The guys did brilliantly, completing in 69th overall in a time of 1hr 25mins (also 69th fastest for leg 2). This was a great effort and maintained our place in the race.  
Next to go were Tom and I doing the navigation leg. We had to run 300m and then were handed the maps. Before we set off I had suggested to Tom (chief navigator) that we 'go big or go home' – and he took me at my word with some aggressive route choices. Lots of traversing through knee high heather and rough ground was the order of the day.Tom's navigational skills were awesome, and he very patiently put up with my older legs while I tried to keep up. We came in 65th overall with a leg time of 1hr 25 mins (58th fastest for leg 3).  We handed over to Richard, who set of like a rocket (luckily his vest remained on for once!). Although a shorter 8km leg, there were some vicious climbs which he took in his stride – apart from at the finish where he took a spectacular face first dive, much to the delight of the onlookers! He blamed his shoes – might have a case there! Even with the fall he brought us in for a final position of 62nd with a time of 45 mins 35 secs (55thindividual fastest for leg 4).
After some warm food and a bit of a debrief we decamped and set off for showers, before a pub dinner and a few drinks. Thanks to Rob A for organising. 
This was a great team effort from everyone to come 62nd. Each runner left it all on the course, and as a team we were amazingly consistent over all four legs. We're already looking forward to next year, and feeling hopeful we can get a mixed and ladies team to the event too. If you're interested, or even slightly curious, about taking part, please come and chat to one of us (or Ali G) – it's a great day/weekend out!