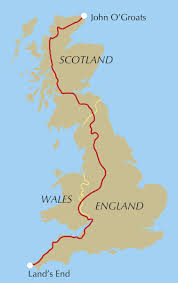 May 2020 saw the continuation of COVID 19 lockdown, including a ban on group sports. In order to keep the club spirit alive and kicking running together virtually became more important than ever. Emma Latham came up with the great idea of seeing if the club could run the equivalent of John O'Groats to Lands End in seven days – this direction was chosen as apparently it's all downhill! The distance required is 1607km in 7 days, and to complete it we needed to cover 230km between club members each day. 
The challenge began on Friday the 15th of May. Day one started with a bang – Hayley Cooper who was due to be running an ultra marathon which had been cancelled due to Lockdown took on the challenge with a vengeance, running over 80km. When all the other runs were added we managed 274km in the first 24h, well ahead of schedule. Day two came and it was clear the club had embraced the challenge with another huge chunk taken out of the required distance with a further 388km run in just 24hrs. We were smashing it. Lots of Tattenhall runners were pitching in, we continued to be ahead of schedule and although we had initially planned to complete the distance in seven days we reached the Lands End by Tuesday evening. But no one stopped running and we still had two days to go, so we decided to virtually run home to Cheshire and Tattenhall. This meant a further 500km in two days. Everyone continued to put in runs, and the extra 500km was completed with Jen Chambers doing the last kilometre during the weekly Tattenhall Zoom virtual drinks getting off the sofa putting the G&T down and doing a quick run round the block.
Overall we had 60 Tattenhall runners post runs, including some of the new generation. Two runners managed to run over 100km in the seven days, and three runners posted runs every day of the challenge – Grace Hart, Melanie Barker and Simon Duckett. It was great to be involved and see how engaged the whole club was across all groups – a real club effort.