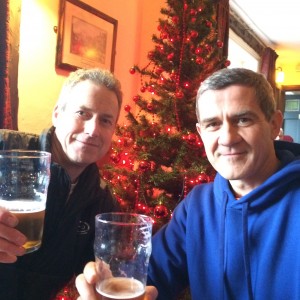 After a hard year's racing, only one challenge remained. The feet had been climbed and the miles put behind them; the legs were rested; the kit tested, fuelling was complete and hydration optimised. Finally the date arrived and Nick Holmes and James Jenkin took to the starting line with another 61 intrepid souls. This was not a mad lurch for the finish but a measured, carefully calculated judgement of man vs mountain; of effort vs energy; the culmination of toil, sweat and planning. Finally the gun was fired and all racers put their individual strategies into operation.
Thankfully, less than 14min later it concluded in the garden of the Golden Lion at Llangynhafal. The 2016 Jubilee Plunge, all 2.2 miles of it, all of it downhill, was over!
Nick and James completed the race within half a second of each other. James taking the honours in a time of 13min 21 sec in 16th place and Nick crossing the line close behind in 17th place.