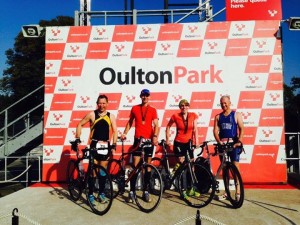 Not just a Running Club! No truer way to illustrate this than from last Sunday's results from Oulton Park, the scene of the English Duathlon Championships. Four Tattenhall runners took part in the competition held at the famous motor racing circuit. The race comprised an 8.6km run, followed by a 39km bike and ending with a final 4.3km run.
With entry limited to 500, and reflecting a high class, national field, competition was always going to be tough. Notwithstanding, Tattenhall Runners put in an excellent finish with Ali Grundy taking third place in the FV40 Category (and second eligible finisher) and Martin Durrant fifth in the MV55.
Not bad for a village running club!
Results were:
Rob Arden. 2-03-14. 13th in age category
Martin Durrant 2-08-25. 5th V55
Alli Grundy 2-11-33. 3rd V40
Martin Hilton 2-17-32. 9th in age category