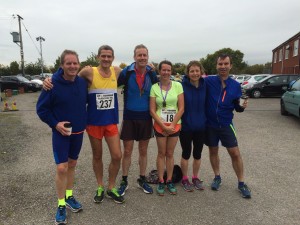 A busy weekend for the Tattenhallers with some attacking the high spots of Amsterdam, oh, and while they were there, the 1/2 marathon, and others remaining more local with 9 running the Farndon 10k.
In Farndon, a field of 450 was always going to attract a high class turnout and cool dry conditions were ideal for fast times. Both first and second places were taken by runners from Eryri Harriers, clearly comfortable with the hilly parts of the course with the race being won by Russell Bentley in a very impressive time of 31:34. The leading Tattenhaller was Peter Taylor who crossed the line in 13th place overall in a very respectable 37:05. This won him 3rd place in the MV40 category. Other runners were:
Simon Duckett, 35th overall, 14th Senior Male, 39:47 – achieving a sub 40min personal best.
James Jenkin, 47th overall, 2nd MV55, 41:00 – achieving a personal best
Nick Holmes, 80th overall, 4th MV55, 43:45
Rod Jones, 91st overall, 5th MV55, 43:57 – achieving a personal best
Grace Hart, 124th overall, 3rd FV45, 46:52 – achieving a personal best
Lance Boseley, 150th overall, 12th MV50, 47:46
Debbie Stanaway, 161st overall, 5th FV45, 48:19
Simon Melbourne, 198th overall, 55th Senior Male, 50:10
If you look at these results more closely you will see Tattenhall recorded 3 podium places, 4 personal best times and took 2nd, 4th and 5th places in the MV55 category. Overall 6 crossed the finishing line in the top 5 places for their category. All in all a very impressive performance.