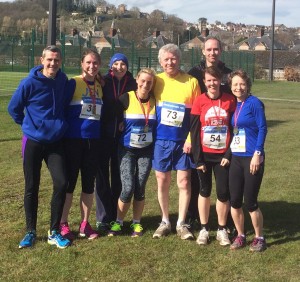 This week, Tattenhall took themselves, amongst other venues, to tackle the unknown, the uncertain, the foreboding frontier factor; namely the Denbigh 10k. A surprise event in this year's club road championship, 8 adventurous runners, passports in hand, crossed to the vale of Clwyd to challenge the course and hopefully, win points to support their championship ambitions.
An early arrival at the course allowed plenty of time for an extensive warm up and it wasn't long before the team were looking for a way out of the maze of local streets into which they had dived to prepare for the race. Successfully returning to the course Tattenhallers gainfully lined up with other contestants. Ready for the off, they were politely advised they were were all facing the wrong way! Oh well. Runners were positioned to the correct side of the start line and were soon launched into the hilly lanes of Denbigh; and hilly they certainly were. However, it was a good day for the club with Rob Arden crossing the finishing line in third place overall in a time of 40min 43sec and Alli Grundy winning first place in the women's race in a time of 42min 25sec, both highly commendable performances.
With a brace of podium finishes and a smattering of likely age category winners, it was decided to remain for the prize giving and so the team remained in the chilly breeze awaiting the momentous occasion. A huge pile of Maltesers had been spotted while registering and the prospect of returning to Tattenhall munching on the proceeds of victory were enticing. And so we waited. The crowd gradually drifted away but finally the results were in. Much to Rob's disappointment, however, there was to be no moment of glory, no minute of fame, no deafening applause from the crowd and no third prize; no cash, no technical running attire and definitely no chocolates! Not to be denied, Alli received her rightful award to the cheers of the remainder of the team, a foretaste perhaps of great things to come from Tattenhall's very own World Championship athlete…… but that's another story.
The sun shone and all was well.