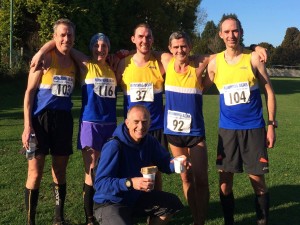 13 Tattenhall Runners left the stygian gloom of Cheshire for the uplifting and sunlit Clwydians on Sunday taking part in the annual Clwydian Hills Fell Race starting and ending in Cilcain village. The weather was outstanding; hot dry and sunny with dehydration being a far greater threat than exposure on what proved to be the hottest November day since 1946; one of the team even had to beg a drink from a passing walker!
A experienced field of 159 runners took to the hills in a race which followed a new course, described by the organiser as 'sadistic', of just under 14 km. It required a total ascent of over 770m and was won in a time of 82 min 58 sec by Stephen Skates from Prestatyn Running Club. The first Tattenhaller home was, unsurprisingly, Peter Taylor who declared himself particularly pleased at beating his nemesis and leading club ultra fell runner, Simon Ellis. Simon's wife, Sue, with dog in tow, provided much needed encouragement on the fells.
Competition was fierce with Tattenhall's sole prize for a podium finish going to Ali Grundy who finished 2nd in the FV40 category and was 6th female overall; Well done Ali and indeed well done all Tattenhallers who braved the scorching temperatures and sadistic hills. Particular congratulations to Sharon B who chose to spend rather longer up to her neck in gorse, heather and bracken than everyone else!
With 39 clubs competing for the mythical 'King of Moel Famau' trophy, Tattenhall's strength in numbers enabled it to stride into first place, taking over 9% of the points available. Well done to all.
Full Tattenhall Runners listing is:
Peter Taylor – 23rd overall 95min 26 sec
Simon Ellis – 26th overall 97min 44 sec
Rob Arden – 34th overall 101 min 10 sec
James Jenkin – 36th overall 101 min 50sec
Simon Duckett – 47th overall 104 min 40 sec
Nick Holmes – 50th overall 104 min 56 sec
Alí Grundy – 60th overall (6th F overall / 2nd FV 40) 109 min 50 sec
Kate Lightfoot – 87th overall (10th F overall / 5th FV 40) 119 min 47 sec
Lee Lumb – 95th overall 122 min 54 sec
Charlie Eldred 108th overall 133 min 37 sec
Mike McCorkell 113th overall 138 min 23 sec
Tim Charmley 125th overall 145 min
Sharon Basford 198 min (approx)