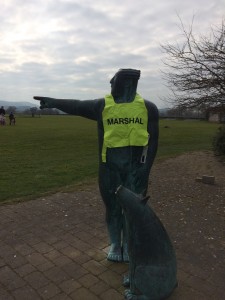 "It isn't the fastest runner that makes a race or indeed the slowest. It isn't the number of
participants or the quality of the competition. It isn't the weather, the course or the
supporters. It is: an experience shared; a pain overcome; a target achieved; a sense of
achievement….."
Did I just say that? What sentimental tosh! Of course it's the weather, the runners; the
marshals and car park attendants; the smiles and encouragement; the supporters, the camaraderie and not forgetting, the cakes!
And so it was that Tattenhall hosted the fifth race in the annual Borders League series. The races, each of just under 10km, pit individual against individual and club against club where final club positions are achieved by ranking the first four (women) or seven (men) finishers. It takes considerable planning to set up and marshal a race safely and congratulations and thanks should go to Jen and Rob Chambers for all the effort they put into to ensuring the event was a very great success.
Sunday's race took 273 runners starting from the Flacca and heading out towards Harthill before climbing to Burwardsley Post Office and returning.
Tattenhall's women excelled once again with notable finishers including Alice Robinson taking 4th place overall and 2nd in the SF category in 39 min 38sec enabling her to take the lead in the women's competition overall. George Ross came in 6th place in the women's race and 1st in the FV35 category and Alli Grundy took 11th place overall and 2nd place in the FV40 category. Tattenhall's leading man was Rob Arden who crossed the line in 44th position overall in a time of 37min 36 sec.
All in all it was a great race in glorious spring sunshine. The marshalling was first rate, the
smiles and support highly necessary and vocal, and the cakes… well, let a picture tell the story!