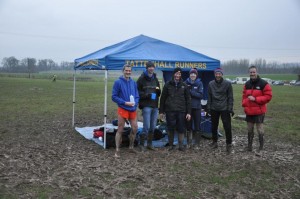 Tattenhall attacked a new cross-country course at Baschurch on Sat 16 Jan, in the latest of the North Wales Cross Country League races which saw over 220 men and women slip and slide their way around the 5 mile course. Once again mud was the order of the day, though on this occasion water wings and, with a flock of sheep in the finishing tunnel at the end of the ladies race, some shepherding skills, would have been advised.
Tattenhall Runners again remitted themselves well with Alice Robinson taking 7th place and Alli Grundy, 9th place. Simone Norris had a great finish, overtaking 5 others in the final few yards to cross the line in 40th place; Jen Chambers completed the team in 75th. Together the ladies were placed 3rd in the team competition.
Attempting to save the team from relegation, Pete Taylor was first male Tattenhaller to cross the line in a very impressive 16th place overall and taking 2nd MV40 position. Fellow Tattenhaller Ali McNay took 3rd MV40 place in 18th place overall. Simon Ellis took 1st place in the MV50 category and James Jenkin took 3rd place in the MV55 category. Mike Whiteside was 3rd in the MV65 age group. Like the ladies, the men's team were placed 3rd overall and the maturity of the team assured them of 2nd place in the Masters table! An excellent, if muddy, result!